Asparagus
Beef Carpaccio Asparagus Rolls
Wednesday, December 11, 2019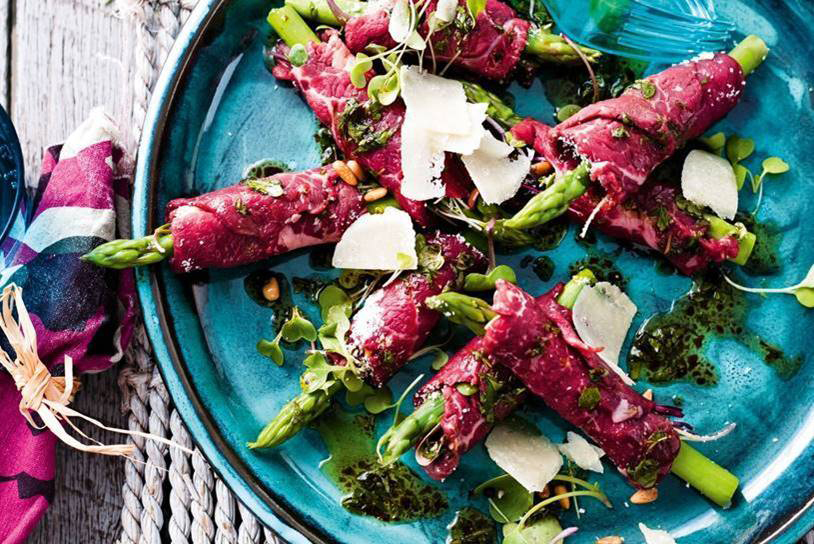 Ingredients
• 2 x 100g beef eye-fillet steaks, trimmed
• 2 tablespoons Dijon mustard
• 2 bunches asparagus, woody ends trimmed
• 2 tablespoons balsamic vinegar
• 1/3 cup (80ml) extra virgin olive oil
• 1 garlic clove, crushed
• 2 cups mixed baby herbs
• 1/4 cup (40g) pine nuts, toasted
Directions
1) Slice the steaks as thinly as possible, then place the slices between 2 sheets of baking paper and gently flatten with a rolling pin until 1mm thick. Lay out each slice on a work surface and brush with a thin layer of mustard.

2) Place the asparagus spears in a bowl and pour over enough boiling water to cover. Stand for 1 minute to blanch lightly, then drain and refresh in cold water. Pat dry with paper towel.

3) Meanwhile, combine the balsamic vinegar, oil and garlic in a bowl, then season with salt and pepper.

4) Lay an asparagus spear on top of each slice of beef, then sprinkle with herbs, pine nuts and grated parmesan. Roll up and place on a platter. Drizzle with dressing and scatter over shaved parmesan.