Asparagus
Hot Asparagus Rolls
Wednesday, December 11, 2019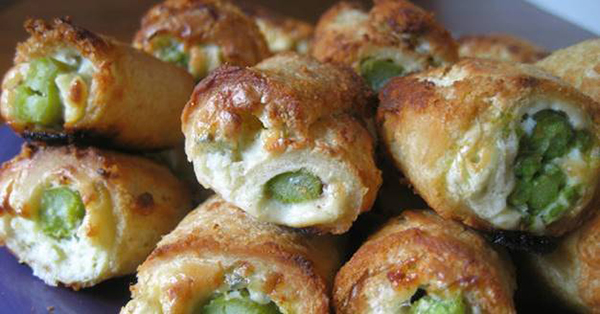 Ingredients
(Serves 8)
• 3 oz blue cheese
• 8 oz cream cheese
• 1 egg
• 20 slices of white bread
• 1 15 ounce can of asparagus
• 1/2 lb of melted butte
Directions
1) Blend blue cheese, cream cheese and egg until smooth.

2) Trim crusts off of bread. Flatten each slice with a rolling pin, then spread with cheese mixture.

3) Place one asparagus spear on the bottom of each slice and roll up. Place rolls in freezer to firm up and cut easily.
This will also prevent cheese from oozing out while slicing and baking. Remove from freezer, cut in half or thirds.
Feel free to make in advance of a party and store in freezer bags.

4) When ready to bake, place rolls on baking sheet, preheat oven to 400 degrees and brush generously with melted butter.
Bake for 20 to 25 minutes until lightly browned. Serve at once.